Key Largo LIGHTHOUSE Wedding Reviews
See what our couples are saying!
At Key Largo Lighthouse, your big day is our big day. From hello to "I do", we're right there with you. Check out real reviews and find out why so many love celebrating with us!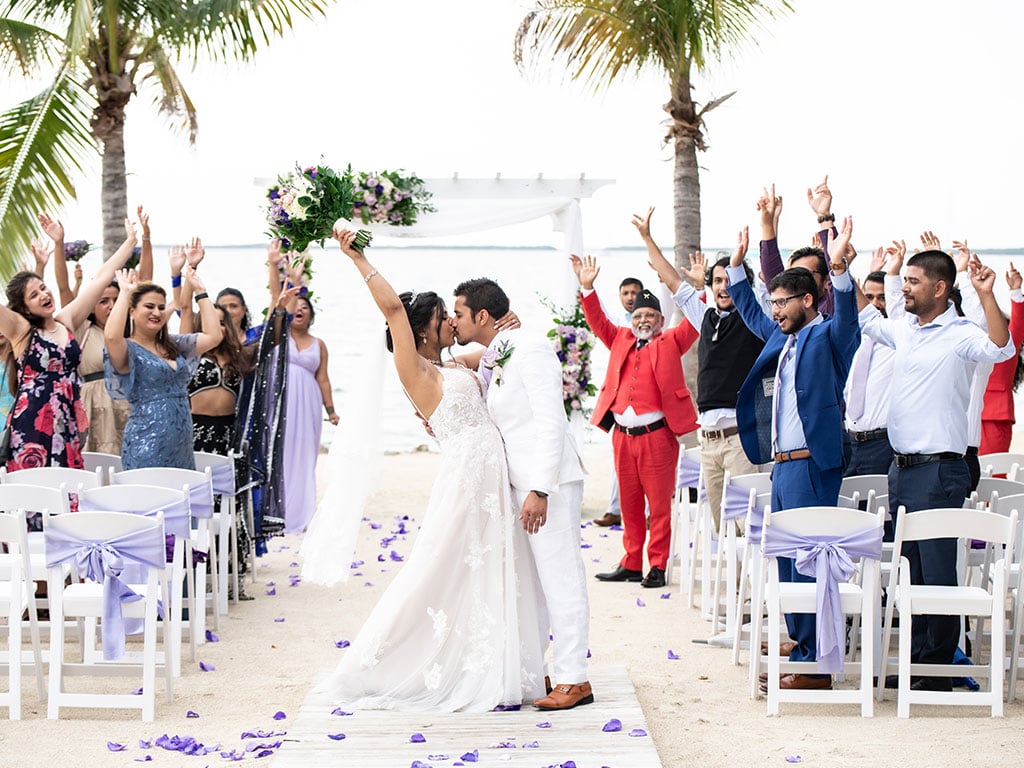 Phenomenal!!! 
We got married at the coral beach property Thanksgiving weekend!! Wow!! What an experience!! I wish we could do it again every weekend!! Not only was our actual wedding spectacular the 4 nights we stayed on the the property was a dream come true! To share such a stunning space with our loved ones and make so many lasting memories was a gift in itself!


Book It, you won't regret it!
We got married on Coral Beach on Dec 18th and went for the (Full Service) weekend package so had the venue for the entire weekend (Friday to Monday) The venue is amazing, it is so beautiful and private and having the accommodations onsite meant we got to spend so much time with our families who had travelled from Ireland for the wedding. Lynda was absolutely fantastic to work with and so communicative. Our friends and families were blown away with the place and all had a fantastic time they are still talking about it now. If you are considering booking do it, you will not regret it.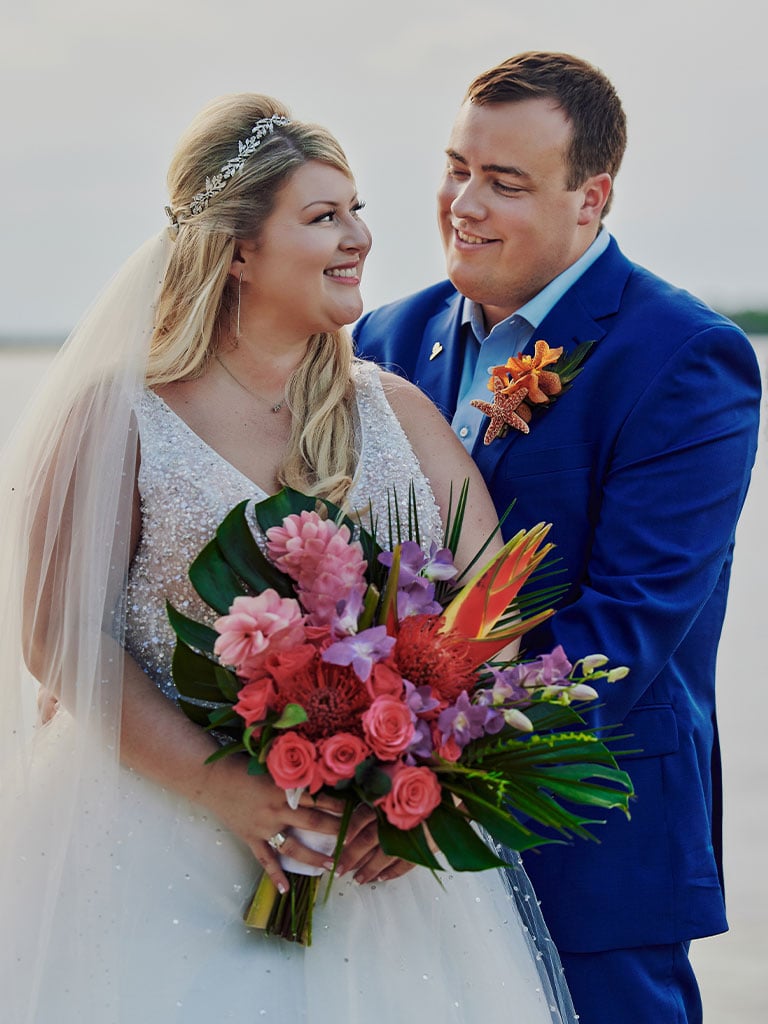 This Place is a Gem!!!
Wow! From the moment you step foot on this property you feel like you're in your own private resort. It's both tropical and laid-back while still being very elegant. It was everything we wanted and more. Ali, our day-of coordinator, was wonderful—like a wedding ninja—making sure everything and everyone was where they needed to be on time. The sunsets were incredible and the property was immaculate. If you doubt for a second if you need a wedding weekend vs just a wedding day, we are hear to settle that for you. We booked an extra day to give us time to get in and prepare, so Thursday was our prep day. Friday we invited our guests over to enjoy the beach and pool with us. Ali even helped us coordinate couples massages under the tiki hut. We had our rehearsal dinner and after our guests hung around the beach and watched the sunset. Our wedding day went smoothly and was better than we could ever have imagined! We watched the venue being set up from the bridal suite as we got ready—such an amazing view. Sunday was our "brunch & beach day." We had time to relax, socialize with guests who we didn't get to speak to much on the day of, and we rented kayaks and a paddle board for them to enjoy. The whole weekend was magical and we'll cherish the memories we made there forever.
Make the decision and book this venue
We had the best experience at Key Largo Lighthouse!…From the rehearsal dinner to our wedding day and the day after lunch celebration, we enjoyed every second of being there. Our guests were so impressed with the venue and had the best time! I would do this entire thing all over again in a heart beat. If you are on the fence about booking this venue, DO IT!!! You will not regret it!
5 Stars just really isn't enough
Saying that our wedding weekend was 100% perfect would be an understatement. The entire venue is amazing and every single detail was perfect. We could not have been happier with our entire experience…It was completely stress free, beautiful and fun!! I would recommend this venue to anyone wanting a destination wedding. I am positive there isn't a more perfect venue.
No words to describe ❤️
This venue & their team make you feel like you're at home here and they leave you to feel like the whole entire venue is yours. My experience here was a dream. I would re-live it a thousand times over again and not change a thing…I promise you that you will NOT be disappointed booking this venue. My whole party has not stop talking about our experience here. It was paradise ❤️
The most magical day of my life!
I truly don't think there are enough words to describe how incredible this venue is. I remember the moment we found Key Largo Lighthouse Beach when browsing beach destination weddings online. I turned to my now husband and said, "this is it." Turns out, it was the BEST decision we could have ever made. Our entire wedding planning process was a breeze thanks to Lynda, Ali and wonderful (and very responsive) vendors.
Look no further than Key Largo Lighthouse
If you are thinking of doing a destination wedding, Key Largo Lighthouse is perfect! From the first initial to the wedding day, the thoroughness and attentiveness is unmatched. Our guests said it was the best wedding they've ever been to! And you have the property for multiple days which is an added bonus. 
Magical wedding weekend
We really wanted a destination wedding in a tropical setting to allow us an entire weekend with our closest friends and family. We found Key Largo Lighthouse weddings online, and Lynda, the general manager was very quick to get back to us and explained everything in detail. I am so delighted to report that Key Largo Lighthouse Beach made the entire weekend better than I had imagined. 
"We booked both Hidden Beach and Coral Beach and both were so so so beautiful. We threw a big Friday night Welcome Party on Hidden Beach, then had the wedding at Coral Beach, then brunch and a pool party back at Hidden Beach. Each property has a unique feel, so it was nice to be able to have a little variety between our events. All our guests commented on how gorgeous the properties are and asked "How did you find this amazing place?!" 
We wanted a wedding with tropical views & gorgeous setting and we couldn't have asked for an better setup with Key Largo Lighthouse wedding. West beach and large tiki bar was stunning out on the water. Our little escape was absolutely perfect and was run so smoothly as we wanted less stress as possible and their team made everything easy for us. Would recommend to all!
"Looking at our photos and videos from our stay…one must think we had to be millionaires to afford a private beach front property and house for the week, but that is not the case. It is very affordable!"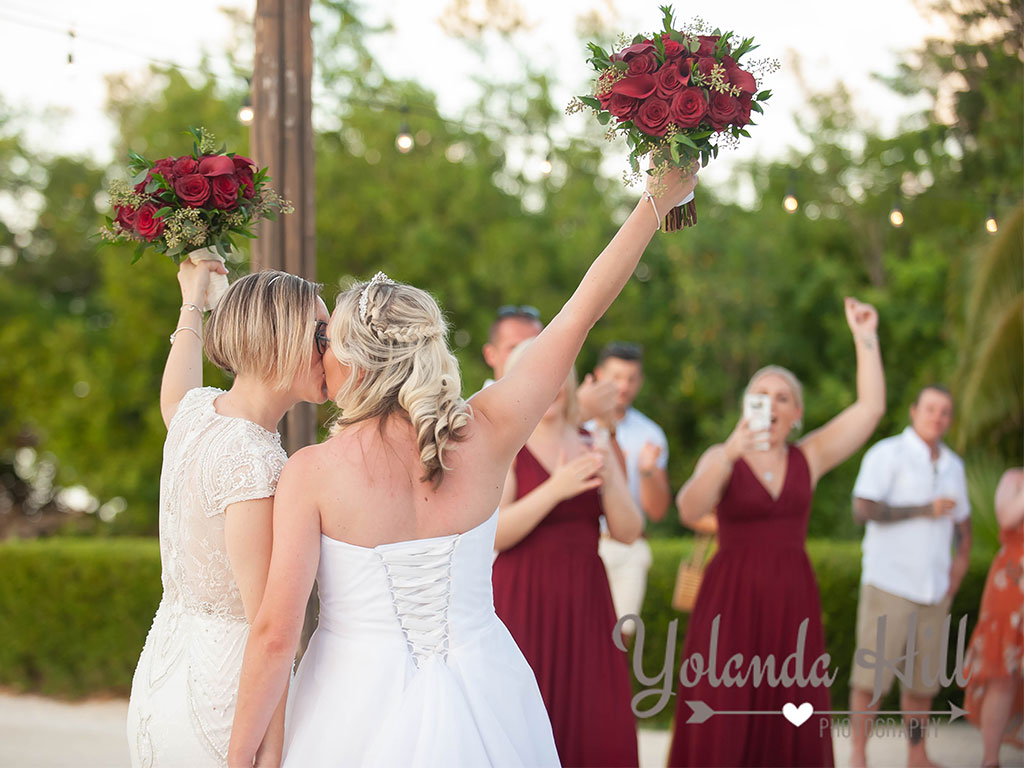 UK brides dream destination wedding
My wife and i got married at Key Largo Lighthouse Hidden Beach last month and we talk about how amazing the wedding was every day! We travelled over from the UK… We were initially worried about the logistics of arranging a destination wedding so far away, but the staff from the Lighthouse were amazing and made everything so easy and were so helpful every step of the way… It really was the best day of our lives, we would recommend anyone to get married here… we all had an absolute blast and want to do it all over again! Thank you to everyone at Key Largo Lighthouse Beach Weddings, you made two brides dream come true ❤️
An entire weekend together
Where to begin?! Our wedding at the Key Largo Lighthouse was an absolute dream. We were at the Hidden Beach Location. Lynda- the property manager – was incredibly helpful with our wedding planning and was very flexible with us and our needs. The property is in pristine shape and gave us an entire weekend with our loved ones all together. We live in London and our friends and family are– for the most part– in the US so having a location that gave us an entire weekend together was amazing. The beach was fantastic- it was very convenient to Miami and several Key Largo attractions and restaurants. Our guests were all raving about the location. In our wedding planning- and in years of being wedding guests- we have never seen anything like this.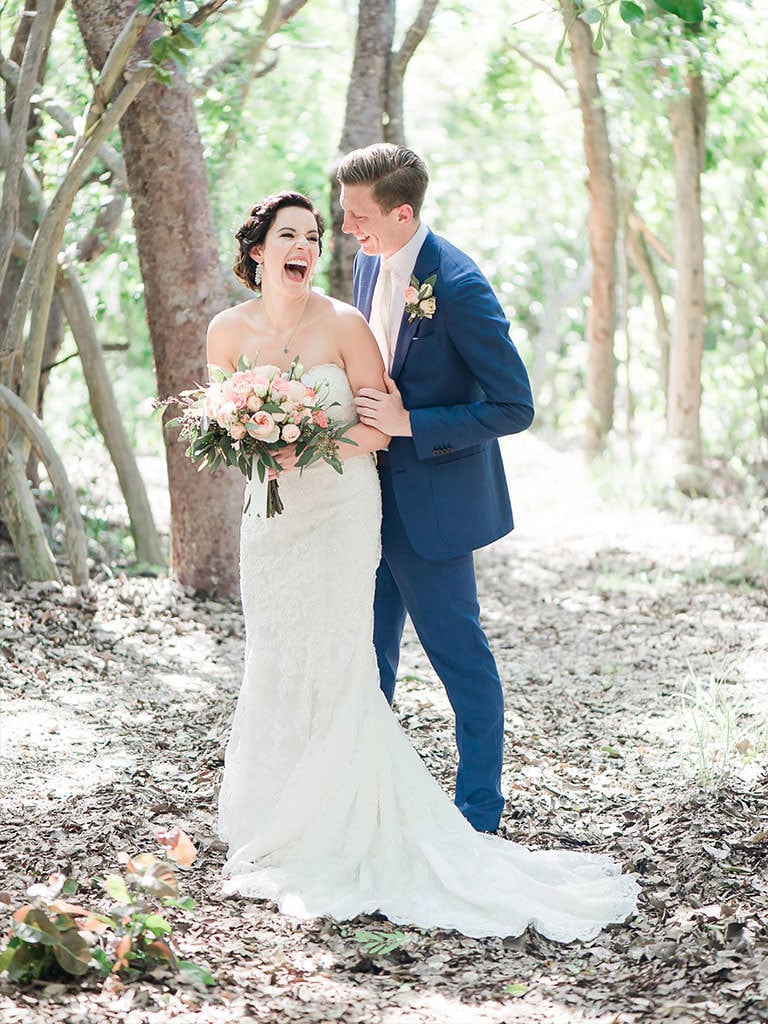 "I only have good things to say about Key Largo Lighthouse…Being able to hold the rehearsal dinner, ceremony and reception in the same spot ensured that everything flowed with ease and we didn't have to worry about being on time or moving between spots. Considering this was a destination wedding, it added to the ability to let go and relax during our stay"
"Everything about it is absolutely perfect! Trust me when I say you HAVE to get married here, it is a total dream…I did check with several other resorts in FL before committing but no other venue compared The fact that you can get this entire private property for several days for such a reasonable price is unheard of. I can't tell you how many people at our wedding told us it was the best wedding/venue they have ever been to."
"Our friends and family were in awe of the venue and on-site accommodations. I had always dreamed of having a destination wedding, and this venue took the stress out of planning and provided several days of privacy for us to celebrate with friends and family…We were swimming and laying in the sun just hours before walking down the aisle. This is exactly the stress free wedding celebration we were looking for!"
Beautiful, intimate wedding venue 
Lynda and the rest of her team were extremely accommodating! My wedding was 100% stress free (crazy right?!) With this venue catering to an intimate style wedding, everything went perfectly with the help of their vendors and team! I can't thank you all enough for making our day so special
Book here, you won't regret it
The property is STUNNING! There are so many areas for photographs; your photographer will be like a kid in a candy store! Coral Beach has a beautiful pier, stunning ceremony area, tree lined driveway that makes you feel like you are in an enchanted forest, as well as a cute wooden swing. Oh, and the sunsets are like nothing you have ever seen…

I love this place so much. The property is breathtaking, the staff is amazing, their vendors are fantastic. My eyes are full of tears of happiness just thinking back on my wedding day.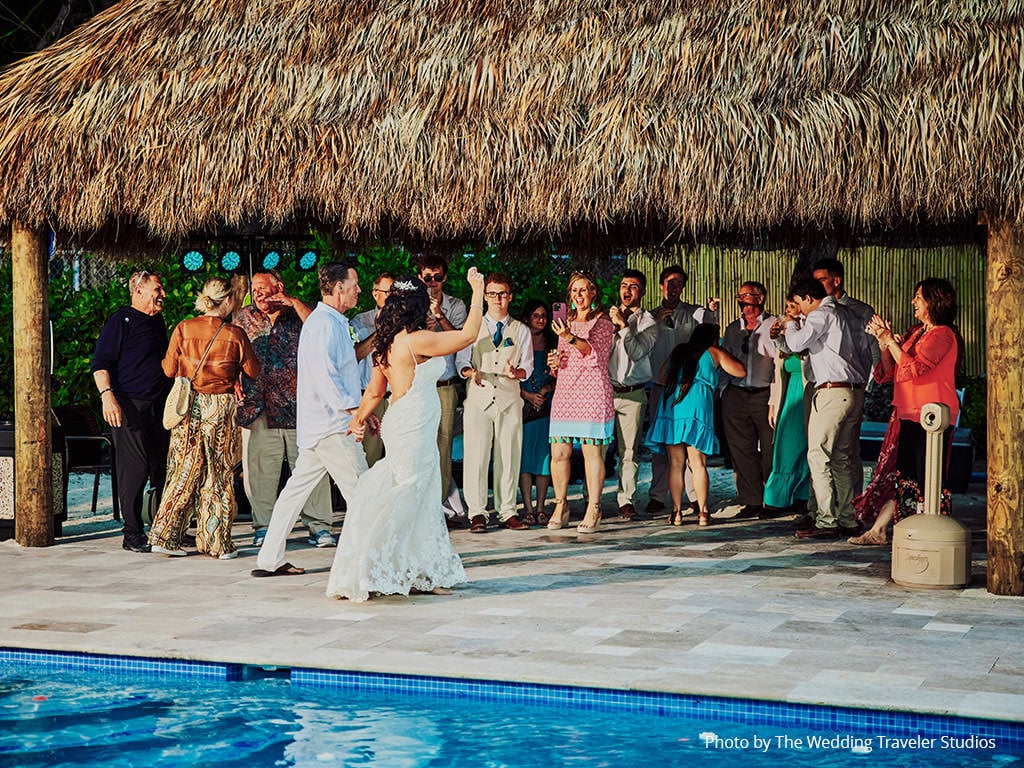 My Dream Wedding Come True!
I cannot say enough positive things about Lighthouse Beach Weddings. My husband and I searched for a while for a wedding venue for a small, private wedding for family and intimate friends. We discovered Lighthouse Beach Weddings West Beach location and booked one year in advance. It was definitely worth the wait!! Their West Beach location is STUNNING!… The venue site was absolutely beautiful! The 5-bedroom house was immaculate. The view for the wedding and our honeymoon was SPECTACULAR!… we felt like it was our very own home for an entire week!! I cannot say enough great things about The Lighthouse and their West Beach wedding venue!!! It definitely was my DREAM WEDDING AND DREAM HONEYMOON DESTINATION!❤️