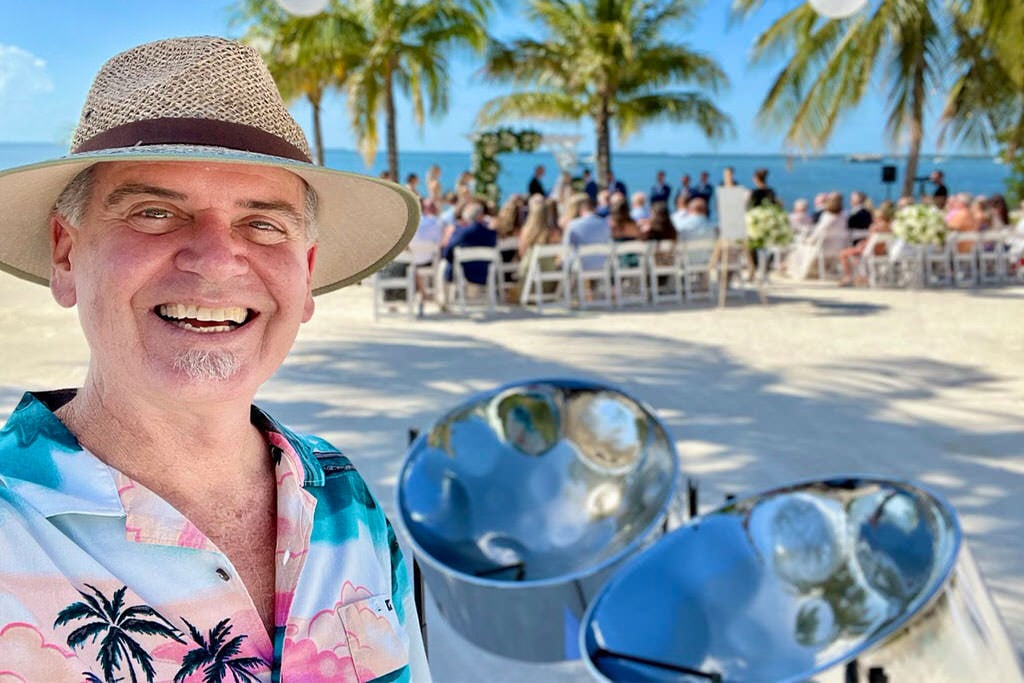 Bob Lyons Steel Drum Music
Contact Bob Lyons Steel Drum Music today:
About Bob Lyons Steel Drum Music
Discover the captivating sounds of the steel drums with Bob Lyons, a seasoned musician with more than 1,000 outdoor weddings in Florida to his credit. With his expertise, passion, and dedication, Bob offers a unique wedding experience. His CD, 'Steel Drum Wedding Music,' is a recognized best seller on Amazon and iTunes, making waves in the global wedding community with its enchanting tropical tunes.
Bob Lyons isn't just another name in the industry; he is an artist whose captivating steel drum music creates a vibrant ambiance that will make your wedding truly unforgettable. His music echoes the sounds of the tropics, adding a whimsical touch that perfectly complements the Florida Keys' idyllic setting.
Bob Lyons Steel Drum Music for Your Special Day
Bob is more than a musician; he provides a full suite of music services designed to ensure every moment of your ceremony, cocktail hour, and reception is accompanied by the perfect melody. Whether you desire the gentle, rhythmic background music during the rehearsal dinner, the grand, triumphant tunes during your reception entrance, or the lively beats to get your guests moving on the dance floor, Bob Lyons can cater to your every need.
Beyond performing during your event, Bob's offerings extend to music during breaks, learning new songs upon request, and providing a sound/PA system.
Dedicated to your wedding vision
Bob Lyons takes immense pride in his craft, and his devotion to excellence radiates through his performances. He is not a talent agent or a referral service. He is a dedicated musician committed to making each wedding he performs at as memorable as possible. Allow Bob to add a unique, musical flavor to your Florida Keys wedding. With his commitment to perfection and your vision in mind, your special day will be nothing short of spectacular.
Experience the magic of Bob Lyons' steel drum music at your wedding. Reach out to him today and let him help transform your wedding into a melodious celebration you'll remember for a lifetime.
Music Services
Ceremony, Reception, Instrumentals, Liability Insurance, Music During Breaks, Rehearsal Dinner, Cocktail Hour, Learn New Songs, Microphones, Sound/PA System
Additional Equipment
Drums – Instrumental-Solo