Key Largo Wedding Catering
Food & Beverage Packages_
Experience our carefully selected wedding catering and bar choices, designed to bring unique flair and taste to your Florida destination wedding.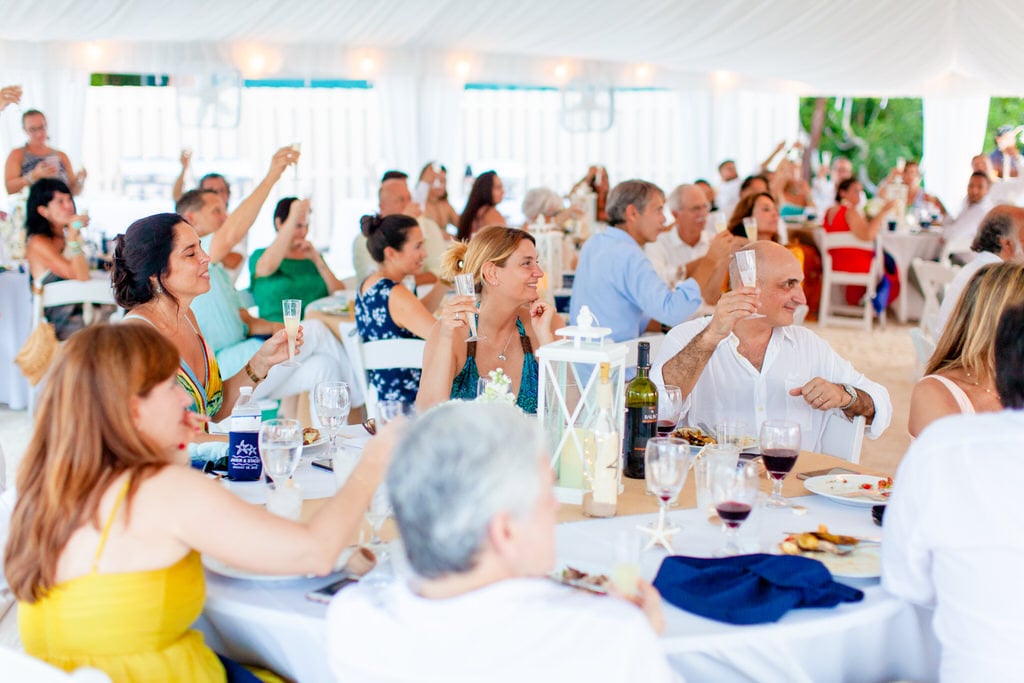 Key Largo Wedding Catering Options
Delicious and Affordable Wedding Meals
Key Largo Lighthouse offers delightful and diverse reception dinner, rehearsal, and brunch options that promise to tantalize your taste buds. Enjoy a memorable culinary experience that's both exquisite and affordable, perfectly complementing your special day.
KEY LARGO BAR OPTIONS
REFRESHING AND COST-EFFECTIVE DRINK CHOICES
Enjoy a variety of refreshing, budget-friendly drink selections at Key LargoLighthouse, perfect for delighting guests at your wedding. From classic cocktails to non-alcoholic beverages, add a sparkling touch to your celebration.
Best Key Largo wedding catering
Drawing on our years of experience in hosting extraordinary beach weddings, we've curated an elite group of Florida Keys caterers for your destination wedding.
Each of our culinary partners has been selected with the utmost care, based on their expertise, proven track record, and shared passion for creating unforgettable experiences. These are not just caterers – they are gastronomic maestros, masters at seamlessly blending dining and celebration, and adept at turning your wedding feast into an event that resonates with personal touch, warmth, and joy. Craft your dream wedding with us, as we bring the best of Florida wedding venues and services to your table.
Yes. 90% of our couples personalize all menus. The caterers publish the packages only as guidelines to know about what prices to expect. And while the packages are accurate, they are seldom sold as published. Feel exhilarated. Treat your guests to something special. Create something personal.
Yes. Something unique and highly unusual for an outdoor wedding venue is that the chefs cook everything on site. Your food is prepared next to the dining area, guaranteed fresh from the kitchen, and presented as you expect at a fine restaurant.
We can serve in any style you like. I asked Chef Laura recently for her advice on when guests should be served buffet style, or with food stations, or seated (plated). Laura gave some practical and insightful guidance in this brief article on deciding how to serve her dinner packages.
For small groups, she recommends plated dinners because it is more intimate. Further, she finds that stations or buffets appear empty and unappealing. For large groups, her only concern about plated (seated) serving is that it requires additional staff to serve everyone at about the same time. She finds buffet style is the most cost-effective and efficient but emphasized that if you want to add more excitement and don't like seeing your guests standing in a buffet line, choose food stations. The variations are endless.
Yes. That is exactly what about 90% of our brides do. Our couples say they save a ton.
You and your guests will be partying at our venue for several days. That implies your favorite wine, beer, and hard liquors will already be on site. Just let us do all the heavy lifting on your wedding day – All the ice, coolers, soda, juice, and the equipment required for a bar, and of course, the bartender(s).
That would be an essential discussion to have with your wedding advisor. We usually advise you to hire one of our listed caterers. They have great packages, varied menus, and great prices. Food is the one thing that can go terribly wrong and ruin a wedding.